ULTRALIGHT AND COMPACT SPLITBOARD CLIMBING SKINS
The splitboard skin to beat. The ideal all-purpose, go-anywher­­e skin built for cold and dry conditions. Features a mix of mohair for optimal glide and nylon for added durability. Uncompromised performance at an unrivaled weight using high performance textiles from other demanding sports applications as a backbone. The low-bulk materials matched with the minimalist tip and tail system creates a tightly packed roll that doesn't require any extra room in your pack.
The splitboard-specific components including tip connector with one fixed and one articulating hand, camming tail connector, and pre-cut straight edge combine for a secure, lightweight connection on most board shapes.
The sizing curve for the SPLITBOARD LT skins reflects real user needs and positions the most popular board lengths in the middle of a size.  Removable rip strip reduces skin-to-skin adhesion, making it easier to pull apart skins. If your glue gets contaminated on an epic traverse, you can remove the strip for extra adhesion.  
Having problems fitting the tail clip to swallow-tailed boards?  If you use a swallow-tailed board, you can try switching the left and right tail clips to grab the curved outside of your board.  
Ultralight high-performance textiles
~15% lighter than anything else in its performance class
Mix of mohair for optimal glide and nylon for added durability
Compact packability
Asymmetrical tip connector & innovative camming tail connector
Pre-cut straight edge
Flexible sizing with generous overlap
Removable rip strip
Trim Tool & Skin Savers included
Updated non-toxic adhesive lets you do more laps and cover more terrain
PFC-free waterproofing treatment that exceeds environmental standards
Recycled & recyclable storage bag & box
Proudly designed, tested and manufactured in BC, Canada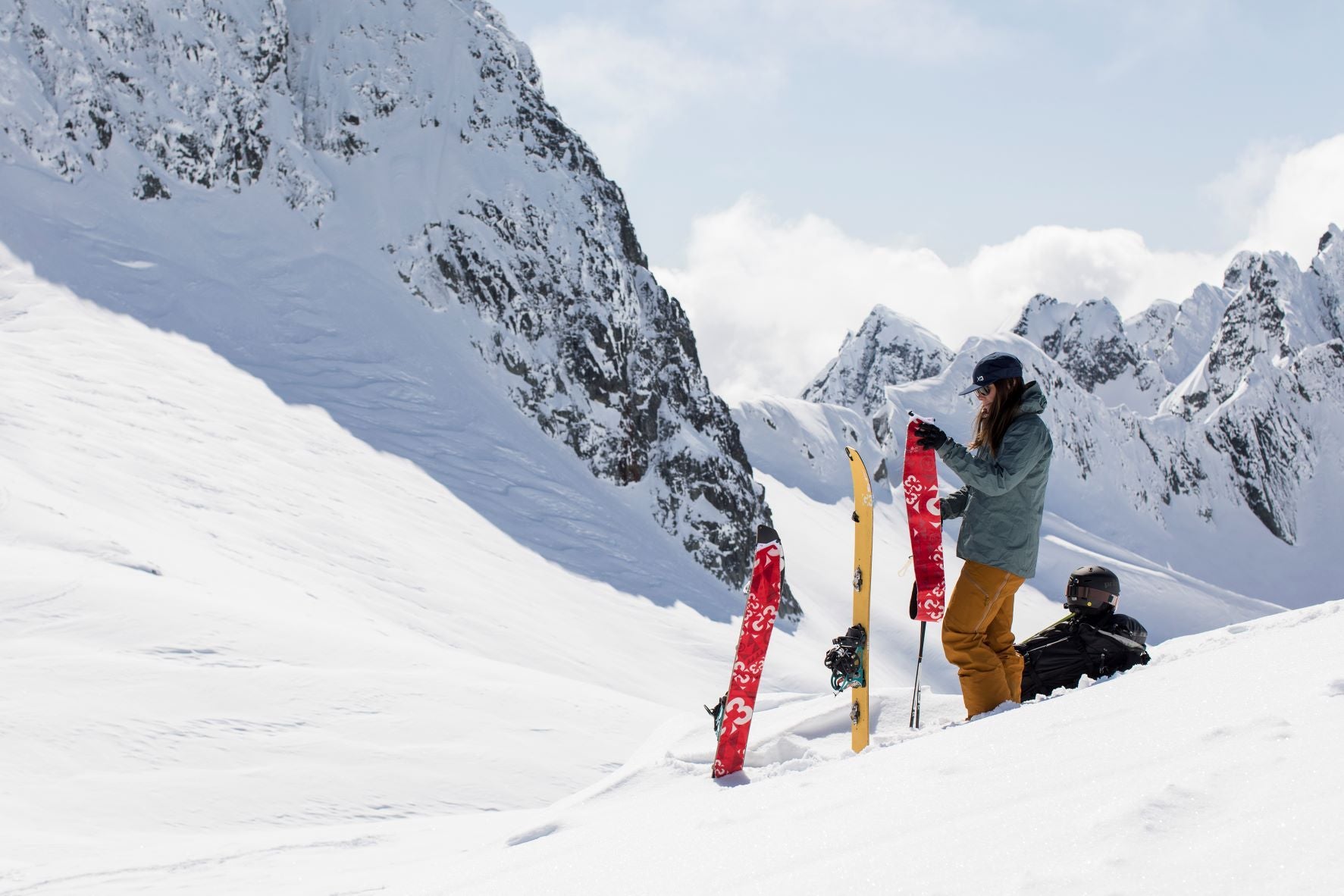 Tech Specs
Lengths:

144 - 162cm
154 - 172cm

Size:

S/M
M/L

Weight (kg):

241g
262g

Weight (lb):

8.5oz
9.2oz

Width:

140mm
Happy but finicky
These are some of the lightest and glide focussed skins on the market. I love them for this. That being said they're a little more finicky it seems than my older dark blue G3 skins.
Poor quality and poor service
Been using these skins for 3 months, the glue has already started to peel off both the sides and in entire sections in the middle. When I reached out for a warrenty based on how quickly the glue deteriorated and I was told I had been storing them wrong and offered 25% discount (they currently are offering 25-40% sale on their website). I have been using their skins for the last 10 years and my last pair for 8 years with no problem. I was very disappointed with both the quality of these skins and with their customer service.
Hi Leanne, Thanks for your feedback, and we're sorry to hear you were not satisfied with how your warranty claim was handled. After reviewing your claim, the photos, and our warranty policy which excludes "damage to climbing skin glue caused by improper storage, excessive heat, and foreign object contamination such as dirt, dust, pet hair, and vegetation', we believe that the glue issues you are experiencing are due to the condition of the skins, and not a manufacturing defect. We hope the discount code we provided to you will help to get you back out on the snow ASAP.
Great skin - for a couple days
15 days out on these skins and that glue is next to useless but more concerning is the lateral tear about one inch down from the top clip that goes half way across the skin. Only reason I'm still using them, I'm waiting for skins from another manufacturer in the mail.
Hi Cam, Thanks for your honest feedback. All G3 products are warranted to be free of defects in material or workmanship for one (1) year from the purchase date.
You can go to https://genuineguidegear.com/pages/warranty to submit a warranty claim and we'd be happy to help you out.